Hi Carson Ward Family, Family and Friends,
Is your house built on the sand or a rock?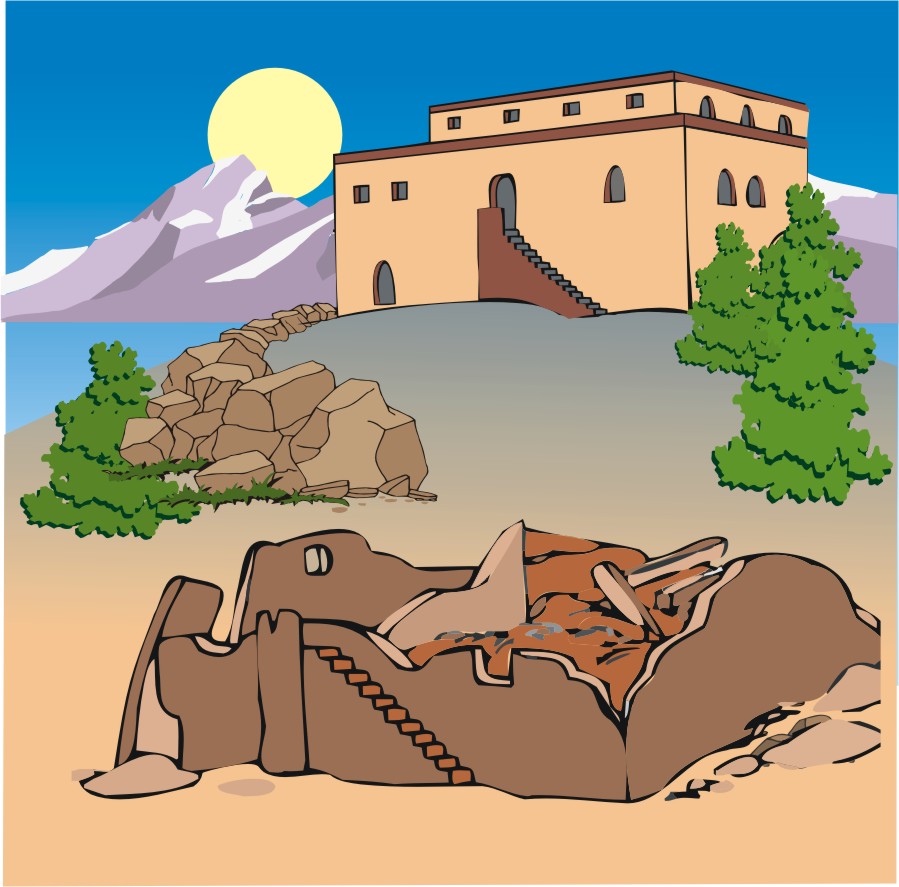 "Therefore whosoever heareth these sayings of mine, and doeth them, I will liken him unto a wise man, which built his house upon a rock: And the rain descended, and the floods came, and the winds blew, and beat upon that house; and it fell not: for it was founded upon a rock. And every one that heareth these sayings of mine, and doeth them not, shall be likened unto a foolish man, which built his house upon the sand:
And the rain descended, and the floods came, and the winds blew, and beat upon that house; and it fell: and great was the fall of it." (Matthew 7:24-27 & 3 Nephi 14: 24-27)
In California we are usually worried about the "Big One", the 10.+ earthquake we continually here about. Along the coast in some areas we need to be concerned about Tsunamis. In forest areas, we have fires. In some areas we have landslides and flooding. In other areas of the county there are tornadoes, hurricanes and ice and snow storms. How prepared are you if one of these natural disasters hits you? How prepared are you if there was a civil unrest or pandemic and you could not leave your home?
How prepared are you?
This blog will help you become prepared, or at least better prepared. Scroll through its blog postings and "Postings" on the right for information that will help you be prepared for what may come your way. There is great information here that will help you, your loved ones, friends and neighbors.
Weekly Assignment---72 Hour Individual Emergency Preparedness Food Kits:
This week add the following...
1) 3 Small Fruit Cups and/or Apple Sauce per family Food Kit.
Not Fruit Rollups or Fruit Snacks
.You can usually purchasing these with 4-6 per container. I like to have a variety in my individual food kit, example: 2 fruit cups and 1 apple sauce. Plan according to your family's diet, likes and dislikes. Add these items to each family member's 72 Hour Individual Food Kit. Place in a large zip lock bag along with the items we have already added: 3 granola bars, 3 juice/fruit box drinks, 3 small boxes of raisins, 3 packages of instant hot chocolate and 3 packages of instant oatmeal for each family member's Food Kit.
Note:
Never purchase food your family will not eat/like. It has been proven, especially with
children, a person will not eat something they do not like, they would rather go hungry.
Emergency Preparedness:
What do we need?
Why is insurance an important part of emergency preparedness?
So far the past few weeks I have talked about electricity, lighting, emergency medical supplies, shelter and cooking.
This week I would like to discuss something most people do not think about as "Emergency Preparedness",
insurance.
Why insurance?
Many times I find when there is a disaster most people do not know what their Auto, Homeowners (including Homeowner-Condo, Renters), Personal Articles, and Business insurance covers, and they do not have as much coverage, or the right kind of coverage, as they think. Each of us needs to look over our policies and make sure we understand our insurance coverages. If we do not know, then we need to discuss the coverages with our insurance agent. I was a fully licensed insurance agent for a major insurance company for 10 years. Many people think their Homeowners, Homeowner-Condo and Renters policy covers flooding and earthquakes, it does not. Those are separate policies. There are also limits on personal items like jewelry, silverware/goldware, collections, art work, antiques, and other items. If you have items over the coverage limits, they also require a separate policy. Plus, you have a deductible you will be responsible for, what is yours?. For more details about what an insurance policy covers and does not cover check out the blog posting "Insurance" under "Postings" on the right. Each insurance company is different. You will need to check with your insurance company to see what is covered, what is not covered, and the amount of coverage you currently have. Knowing will bring you peace of mind and help you prepare for what ever comes your way!
Comments:
All your comments, ideas, suggestions and experiences are welcome! We all learn from each other.